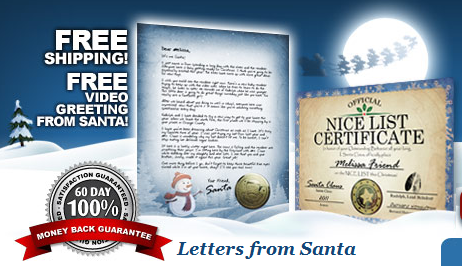 Take a look for yourself……Letters From Santa are a hit!
100% of previous customers surveyed said that PackageFromSanta.com is better than any other Santa Letter site!
Packagefromsanta.com has been delivering high quality personalized letter from Santa and many other small FREE Christmas gift for over five years!
In addition to our unbeatable high quality products we have created a website with families in mind, PackageFromSanta.com website is safe and secure (certified digicert / TRUSTe security assurance).  We offer our families the comfort of an A+ Better Business Bureau rating and a 60-day money back guarantee.
Here are a few of our customer reviews as you will find on http://www.packagefromsanta.com/testimonials.aspx
"I have never seen a gift like this in my life! It was better then I expected!!!! I wish this was around when i was a child. It left such a GREAT impression on my Daughter, that she really believes in Santa now. She had her doubt, but not any more! It put me in tears to see the excitement on her face. I thought it was great to see Santa knew a lot of detail about my daughter. Thats what made her BELIEVE!!! Thank You!! Keep up the Great work!!! After All, Somebody has to play SANTA!"
Susan Mani
Hickory Hills, Illinois
"As grandparents we were so tickled to see and hear the excitement in our grandson. He was so shocked to received the gift from Santa and to show letters and pictures of what he had received just made it more real for him. I'm sure he will never forget it. Everything was such great quality we will be looking forward in using PackageFromSanta.com year after year. Thank You for having something like this for our little ones. We've told many about the package. It arrived in no time, It was a pleasure dealing with the company, We will for sure use PackageFromSanta.com again, The memories are priceless. We are so looking forward in using you again next X-mas We're very satisfied We appreciate what you have to offer for our grandkids WOW the smiles. Thank you!"
Neil and Roberta Tebbutt
Fowlerville, Michigan
"The Santa Letter I did for him the previous year was not personal and was not at all special like the Santa package I got from PackagefromSanta.com. I got the Deluxe Package for my 6year old son and on Christmas eve he found the bright red box in the fireplace. I have never seen him smile so big when he opened it and saw all the things Santa had sent him. He loved getting the reindeer oats and he left them out for all the reindeer next to santa's cookies and milk. Christmas morning we woke up to reindeer oats all over the carpet and in the fireplace! "Those reindeer made such a mess Mom" he told me! PERFECT! Thank you for keeping us all believing! Don't change a thing it is perfect!"
Nancy Goodwin
San Antonio, Texas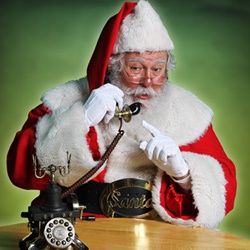 For a free call from Santa visit us at acallfromsanta.packagefromsanta.com